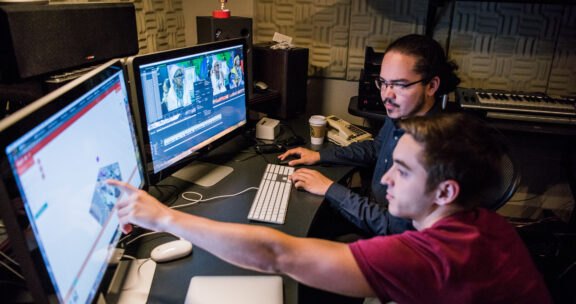 UMBC Interdisciplinary CoLab: Narrative-based Paid Internship
CoLab is a 4-week paid summer narrative-based research internship for undergraduate UMBC students. Participants will create an effective narrative about UMBC's campus, communities, and lives with an interdisciplinary team of students. Open to all majors, this is an excellent opportunity for students in STEM fields to learn to tell effective stories and for students in social science and humanities fields to gain research and technical skills.
Participants receive a $3000 stipend and a scholarship for a 3-credit internship course. The internship commitment is 30 hours per week during Summer Session One.
PLEASE NOTE: Hybrid Format
For Summer 2021, UMBC Interdisciplinary CoLab is planned for a hybrid format. Students are required to attend a two hour in-person sessions on the first day of the program and for each Friday during the 4-week run. The course format and student housing availability are based on UMBC Covid protocols.
Summer 2021 Projects
Before submitting an application, please read through the Summer 2021 projects below.
Project-specific skills are noted in each description. Since we are developing interdisciplinary teams, you need not have all of the required skills to be selected.
The application requires you to write a brief essay about your interests, skills, and experiences relevant to your preferred project(s). You may apply for more than one project.
1) Radical Literature: Radical Literature in the First Half of the 20th Century
Project Leader: Dr. Kate Drabinski, Gender, Women's, + Sexuality Studies 
An interdisciplinary team of student researchers will explore the UMBC's Special Collections holdings in radical literature. The collection boasts important primary sources for understanding the history of socialist movements in the United States, and debates within that movement about internationalism, racism, sexism, and other issues. Based on their research, the student team will create an online exhibition for the Special Collections website that will include a historical timeline, digital stories, and 2-4 research essays based on the collection. Additionally, the team will create a digital pamphlet about the collection that borrows from the style of the documents themselves to advertise the collection. The project's goal is to create researched content for public use housed on the library's Special Collections page to make more public the collection to encourage researchers, including students, faculty, and researchers from elsewhere, to use the collection.
Required skills and abilities for applicants
Student members of the interdisciplinary team should come to the project with an interest in understanding radical movements, a curiosity about political movements in the past, and strong written and oral communication skills. At least one student should have some experience with graphic design and/or website production. Students will be trained to use the Omeka platform, but it would be helpful to have at least one member of the research team with some familiarity with digital skills.
2) A Protocol Manual for Urban Forest Health as Citizen Science: From Patch Sampling to Public Advocacy
Project Leader: Dr. Jennifer Maher, English
The mission of the non-profit organization Baltimore Green Space is "to be a leader and partner in ensuring the communities' open spaces and forest patches are considered priority assets in the growth and redevelopment of Baltimore. We believe that green spaces provide unmatched opportunities for recreation, civic engagement, and community revitalization. It is essential to retain existing natural spaces that have ecological value and biodiversity. Our impact includes the scientifically documented social, health, environment, and economic benefits that create strong neighborhoods and a vibrant city." The goal for this interdisciplinary team of student researchers will be to produce an urban forest health research protocol manual. Building on work produced from collaboration among Baltimore Green Space, Dr. Matt Baker of UMBC and the USDA Forest Service, current and former students involved in the Summer Forest Patch Project, and community land stewards, the manual will be used in the field and to train other practitioners engaged in forest health to develop persuasive information related to urban forest health and offer guidelines for how to disseminate data generated by the field protocol to a more general public.
Required skills and abilities for applicants
Student members of the interdisciplinary team should share the following traits: intellectual curiosity, strong written and oral communication skills, leadership ability, and solid research skills. Ideally, the team would have student expertise in:
Environmental science
Rhetoric/technical communication
Web design and video editing
3) From the Civil Rights Movement to Black Lives Matter: Oral Histories of the Lived Experience in Baltimore
Project Leader: Dr. Nancy Kusmaul, Social Work
The Black Lives Matter movement in Baltimore has been in the news frequently since the death of Freddie Gray and most recently with the death of George Floyd. This narrative-based project will ask questions about what we can learn from history to inform the current movement. Through this inquiry, the student project team will begin to tell the story of racial justice activism in Baltimore from the Civil Rights movement to the Black Lives Matter movement, building on existing data from the Maryland Historical Society and creating new data through interviews. The goal of this project is to produce a small collection of oral histories of both civil rights and black lives matter leaders, to create an integrative podcast based on the oral histories, and produce brief blog entries to introduce them to a wider audience. The CoLab student team will learn about the history of civil rights in Baltimore, gain interviewing skills, interview 2-4 people as a group, and collaborate to develop the final products, which will be archived by the UMBC Library Department of Special Collections.
Required skills and abilities for applicants
Team members should have excellent skills in oral and written communication and problem solving, work well in a group, and be flexible and creative. They should also have an interest in local history. Useful specific skills are: an interest in and some knowledge of the history of civil rights in Baltimore, technical skills needed to produce audio narratives, the ability to communicate your expertise to non-experts, and an ability to learn across disciplines. Knowledge of qualitative/interview research is helpful.
Want to see more CoLab? Have a look at what past students accomplished during their internships! See Past Projects.
To apply, you must be a UMBC degree-seeking undergraduate student, have completed at least 30 credits at UMBC, and you must submit an unofficial UMBC transcript
Your transcript must indicate that your UMBC cumulative grade point average is 3.20 or greater.
The review committee will only consider applications that meet the minimum qualifications and requirements. However, selection for this internship is competitive; therefore, meeting the minimum qualifications does not guarantee your selection.
You must complete the full application and answer all questions.
Submit application
The deadline to apply for the UMBC Interdisciplinary CoLab Internship is in Friday, March 11, 2022.
All decisions of the review committee are final. Selection results will be sent to each applicant via email no later than Monday, March 28, 2022
Questions
Please contact Rachel Carter at rachc1@umbc.edu.
The UMBC Interdisciplinary CoLab program is a partnership between The Office of Summer, Winter & Special Programs; the Dresher Center for the Humanities; and the Provost's Interdisciplinary Activities Advisory Committee.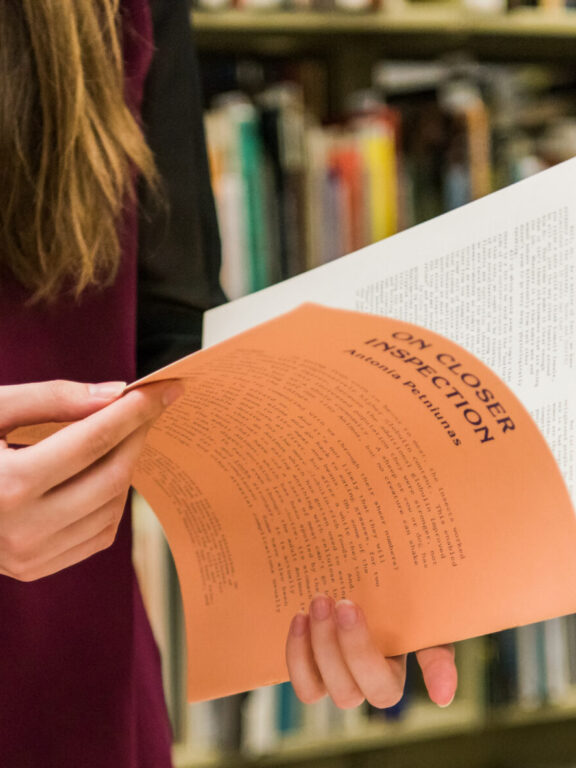 Deadline March 12, 2022